Building For The Storm | Hurricane Resource Guide
Posted by Sarah George-Moniz on Monday, June 1, 2020 at 11:47 AM
By Sarah George-Moniz / June 1, 2020
Comment


As we officially enter the 2020 Hurricane Season with a few named storms already behind us, predictions for this year show promise of an eventful year. For those relocating to the area news reports of big storms can be daunting while our local population finds solace in being prepared to weather the storm. With a decade of custom home building experience along the South Carolina coast, our team is well versed in the challenges our coastal climate can add as homes age.
So, just what do you need to know? Below we break down building new, tips for being prepared and how you can updated any home.
Building A Stronger Coastal Home
With over a decade as a custom home builder in Myrtle Beach, we know a stronger, quality built home will protect your family and your most valuable investment. It's our practice to build above the standard code requirements as well as to continually align ourselves with the top vendors and products in the industry.

What makes a CRG Home stronger? Our team will start with an assessment of your lot. Heavily wooded sections, wetlands and/or location in a flood zone, are all factors that influence the position, design and the types of foundations that will best suit your home. During the design phase, we will look at roof styles and other building practices that can help minimize the impact of storm damage on your home.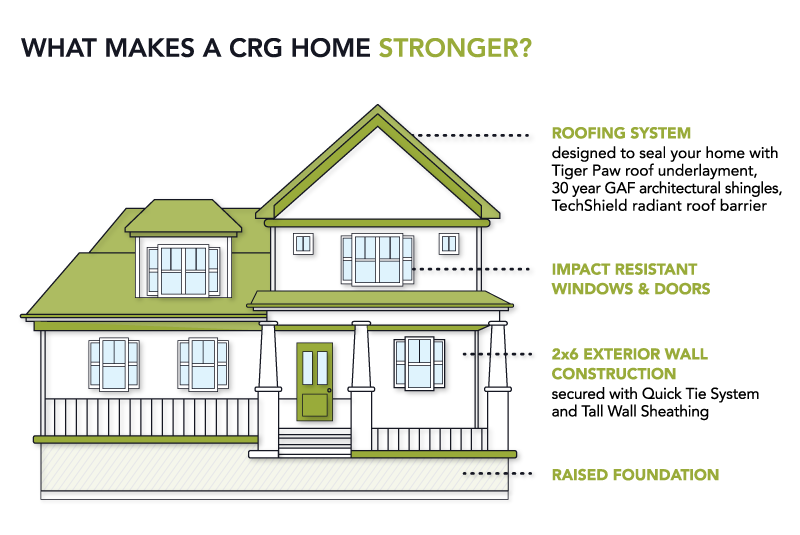 Many of the higher standards included with every CRG home result in a stronger home. These may include:
2x6 Exterior Wall Construction Secured with Quick Tie System and Tall Wall Sheathing
Roofing System designed to seal your home with Tiger Paw roof underlayment, 30 year GAF architectural shingles,TechShield radiant roof barrier
Impact Resistant Windows & Doors
Raised Foundation
Tips On Staying Ahead Of The Storm
If you've recently relocated to the Myrtle Beach area or are considering it and unfamiliar with how to prepare for hurricane season, here are some useful tips:
Know Your Zone: For all residents this is imperative to understanding evacuation protocols. Become familiar with your evacuation zone as well as the evacuation route, nearby shelter locations and have a plan in place for your evacuation well ahead of the storm. Find your zone on this Evacuation Zone map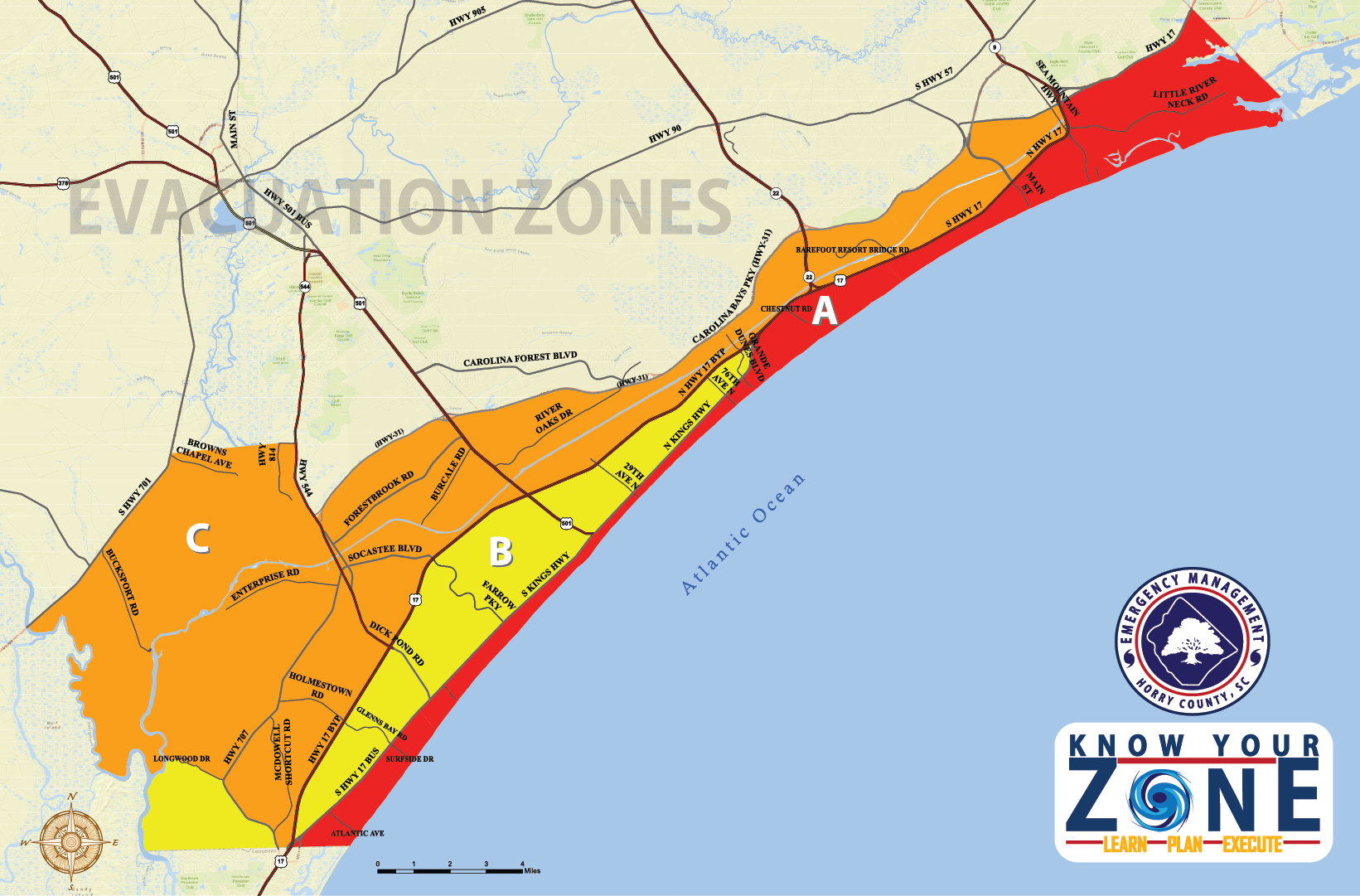 Emergency Preparedness Kit: Have an emergency bag packed at all times with necessary supplies for at least three days in case of evacuation. Make sure to include medications, extra cash and pet supplies in an easy to carry case or bag. For more on what to include in a basic emergency preparedness kit, check out this FEMA blog about the Proper Emergency Kit Essentials.


Proper Insurance: Protecting your home also includes insuring it properly. Know what insurance you have and what it covers. Damage from hurricanes is typically caused by high winds and flooding which most homeowners policies do not cover! Make sure that you have appropriate insurance coverage for your home in the event of a major storm and that many flood insurance policies require a waiting period before the insurance is effective.
ENSURE YOUR HOME IS HURRICANE READY
Most of the time, living on the coast of South Carolina offers a life full of sun, sand, and fun with idyllic year-round temperatures. Although a few months out of the year, our beach communities have to prepare for the threat of hurricanes and tropical storms. Hurricane season officially runs from June through November. During this season, our coastal communities can see heavy rainfall, high winds, and flooding. It is not a matter of if, but rather when a hurricane or natural disaster will strike and preparing for these storms ahead of time can help secure your most valuable investment- your home.

Structurally Sound
Don't wait for a hurricane to be on the horizon before making sure you and your home are prepared! Regardless if you are in the process of buying a home, recently purchased or have been in your home for years, it's not too late. Have your home inspected to ensure there's no damage to the foundation, structure or roof from previous storms. Before you buy it's wise to have this done to determine if remodeling costs will outweigh the cost of building new. Working with a CRG Realtor you will have the added benefit of a full construction team on your side to assess the home and plans for remodeling.
Securing For The Future
There are endless ways to secure your home either to existing structures or when building new. Here are just a few ways that can easily help protect your home:
Impact windows are manufactured to withstand the most brutal weather conditions along with wind-borne debris. An alternative to impact windows would be hurricane shutters. One of the main causes of hurricane damage is the penetration of the windows and doors from flying debris. In addition to the visual damage from flying debris, gusty winds entering the home can also cause lift on the roof and outward pressure on the walls.
Hurricane shutters and panels can be isntalled to help protect non impact resistant windows and doors. Tides partner, Burroughs Shutter Company is a local leader in window coverings and can asssit you in material selection and design to fit your home.
Roof failures are among the most common and often the most expensive repairs, making this a key investment before the storm hits. The expense of roof damage is partly due to the cost of roofing, but also due to the cost of interior damage caused by a failed roof. Since the most important aspect of a roof is its structural frame and underlayment, it is strongly recommended to remove the entire existing roof down to the decking when re-roofing. Our Tides partner, Monarch Roofing, is a GAF Master Elite contractor, can assist you in retrofitting or repairing your roof.
Installing a backup generator provides comfort and safety when there's a lose of power. Losing power can be a major inconvenience and can take days for service workers to repair. With a generator and an automatic transfer switch, no human intervention is required for the transfer of power from your home utilities to the generator. Automatic transfer switches can be used to power an entire home or a panel containing specific emergency circuits. Generators allow power to stay active assuring your security system is reliable, the food in your fridge to stay fresh, the temperature in your home to remain comfortable, and communication devices to remain charged for use. A generator isn't just a backup plan, it's a precaution.
Lets Get Started
Contact us today to discuss how to best keep your home, belongings, and family safe in the event of a hurricane or tropical storm. Our team of construction and real estate professionals can assist you in rebuilding, relocating, or building a safer home for you and your family. Whether you are buying, building, or selling, our team is here to help!
Watch To Learn More About How We Build Living Dunes - A Higher Standard of Construction
The homes at Living Dunes combine remarkable luxury with quality, sustainable construction.They are built by CRG Companies and include the CRG building standards that are always above standard code requirements. Many of the upgraded building practices such as 2x6 exterior walls, Icynene Spray Foam Insulation, GAF Designer Shingles and more are invisible once the walls are up! This video takes an inside look at what's behind the walls and how they combine to make your home stronger and safer.