Living Roof, the Perfect Start to Landscaping for Spring!
Posted by Preston Guyton on Tuesday, April 4, 2017 at 6:14 AM
By Preston Guyton / April 4, 2017
Comment
Living Roofs | Beautiful and Environmentally Friendly!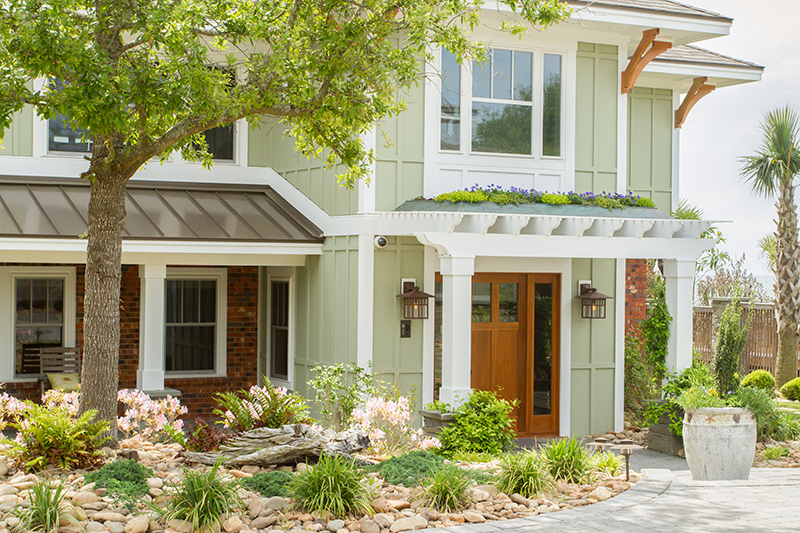 CRG Companies was founded on building practices that implement the latest in eco-friendly products and designs, so typically when you say green we think of green technology and construction methods that focus on energy efficient products and recycling. However, one of our newest specialty services brings a whole new kind of green to the table, or should we say roof? Green roofs that is! Also known as living roofs, green roofs, provide multiple benefits to the home and the environment including:
• Filter toxins from the air
• Help with storm runoff
• Double the life of the roof
• Increase insulation & reduce noise
For most, especially those with second homes in coastal areas, a low maintenance living roof is desirable and the design as well as material selection is important to achieve this goal. While living roofs are not completely self-sustaining, they typically require very little professional assistance once they have been established. Depending on the type of plants used, pruning, fertilizer, minimal weeding, and occasionally adding more substrate is all the roof will require to maintain. Each project must also take into account the environmental factors such as the terrain, amount of sun exposure, wind and overall climate to ensure the materials will thrive.
Professional Landscape Designer, Abbey Burns

In order to bring our homeowners the best in design and implementation of green roofs, we've tapped the resources of landscape designer, Abbey Burns. A professional landscaper who recently relocated to the Grand Strand area. With over eight years of industry experience including hands on training with a Landscape Architect , she is well versed with every aspect of gardening. Her impressive portfolio includes projects such as a half acre wildflower garden, an orchard poised on the side of a mountain, a tiered retaining wall made from boulders and rocks (salvaged from the property) with landscaped beds on each level and the landscaping design of a 40 acre luxury inn located in Orange, VA.
Living roofs, and soon living walls, are just one of the specialty services that CRG Companies offers to homeowners to help streamline the construction and design process. Check out our full list of specialty services here!