Your Ultimate Moving Day Survival Kit
Posted by Preston Guyton on Monday, June 15, 2020 at 7:19 AM
By Preston Guyton / June 15, 2020
Comment
Congratulations! The day you've been waiting for has finally arrived... it's moving day! Okay, you might be more excited about getting settled into your new home rather than the actual process of moving. Let's face it, it's long, tiring and just plain stressful when you can't find what you're looking for, or when things aren't where they're supposed to be. One of the best ways to eliminate moving stress is make sure that everything you need is in your moving day survival kit. Plan for a less stressful and more organized move with this ultimate list of moving essentials you should have with you at all times.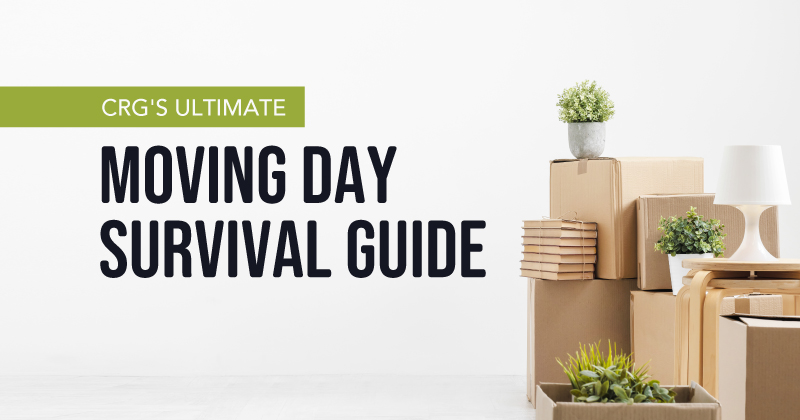 1. Your Must-Have Items
These are the things that we guarantee you won't want to be without while you move, which is why we put them right at the top of the list.
Documents, Personal and Moving
Your personal and moving documents should not leave your side during moving day, until they can be safely returned to their proper place. This includes:
Your birth certificate
Your social security information
Your passport
Your entire wallet
Your moving documents, like your deed, insurance papers, and travel papers if applicable.
Cleaning Supplies
Whether you're moving into a brand new build, or new-to-you home, chances are it won't be as sparkly clean as you want it. So before you even start unloading or unpacking boxes, you should give your new home a thorough cleaning with all the cleaning supplies in your moving day survival kit.
We recommend bringing:
Multi-purpose spray
Window cleaner
Toilet bowl cleaner
A eco-friendly drain cleaner
Paper towels
Dust Cloths
Trash bags
Furniture polish - you're going to want to do a touch up after the move!
Dish soap
Dish scrubber
Having these on hand means you can clean on the go instead of making a mental note to clean later on.
Electronic Chargers
We really can't live without our phones, and if you're coordinating with a moving company, helpful friends, or the nearest takeout food restaurant, you need your phone. The only thing more important than your phone is your charger. While packing your ultimate moving day survival kit, make sure each piece of technology has a corresponding charge cord.
Tools
These don't have to be big bad remodeling tools. We're talking simple, easy to transport tools that can help you make small adjustments as you go. These are crucial if you are putting your bed together when you arrive, or have other things that need to be assembled. Pack items such as:
A hammer
A screwdriver
A wrench
Allen keys
Screws
Nails
Toilet Paper
It's the thing that you never want to be caught without. Let's just leave it at that.
2. Your Personal Items
These are things that every person in your family should have with them for the move.
A Change of Clothes
It seems pretty self explanatory, but how many times have you packed for a vacation and realized you've forgotten to bring a sweater? Carefully lay out a change of clothes ahead of time, and make sure they don't get packed with the rest of your clothes.
Valuables
These could be anything that you want to keep with you. If you have jewelry, a rare coin collection, or a prized trophy from your Little League days, keep it in your moving day survival kit. It really can be anything. Keeping your valuables with you will give you more peace of mind, which will help alleviate a little more of that moving stress.
3. For Your Bathroom
Your bathroom is going to be one of the first rooms in your house to be used - guaranteed. That's why you should have some of the basics in your moving day survival kit, ready to go.
Toiletries
These are the things that you need to feel human in the morning, besides coffee. We recommended including:
Shampoo
Soap
Face wash
Toothpaste
Toothbrushes for every member of your family
Fresh towels
A bath mat
Aspirin and other medications
Makeup, if applicable
A shaving kit, if applicable
A comb or brush
A hair dryer
A first-aid kit
You'll feel better knowing that while the rest of your home is probably spread out over the house, you'll have everything you need for your nighttime and morning routines.
Plunger and Toilet Brush
It's one of the key items that is often overlooked when moving, but it shouldn't be. Having a toilet brush and plunger are those 'just in case' items that you would rather not need, but are glad to have.
And did we mention toilet paper? Well, we're reminding you one more time.
4. For Your Kitchen
Moving works up quite an appetite, and you will want to be prepared for when you start getting those hunger pangs.
Silverware & DISHWARE
Have a knife, fork, and spoon for each member of your family to use at mealtimes. This will give you the option of unpacking the rest at your leisure. Like the silverware, have a plate, bowl, and mug or cup for every family member.
Basic Cookware
You won't be making any gourmet meals until you've hit the good grocery store and put the finishing touches on your decor, but you should have the bare necessities to get you through mealtimes. We recommend including:
A frying pan
A pot
A baking sheet
A kettle
A coffeemaker
Cooking utensils, like a spatula or spoon
A chopping board with a knife
If you have other cooking tools you use on a regular basis, by all means include them!
Breakfast Ingredients
Chances are the night of your move, you're going to end up ordering in. But before you know it, the sun will be rising and your stomach will be grumbling. This is why we recommend pre-buying and bringing breakfast ingredients that you can use to pull together a quick meal. Depending on your preference, this could include:
Bread
Eggs
Milk
Cereal
Juice
Fruit
Bacon
Coffee/tea
Keeping a few of these staples on hand will fuel you up in the morning, and give you the energy you need to start the unpacking process.
Bottled Water
This is essential, particularly if the water has yet to be turned on in your new home. Moving burns a lot of energy, especially in the summer heat, so it is important to stay hydrated.
5. For Your Bedroom
Getting a new bedroom is always exciting, but it will feel even better if you're completely prepared for it.
Fresh Sheets
Every bed needs a fresh set of sheets, particularly after a long day of moving when all you'll want to do is fall asleep feeling warm and comfortable. After putting your beds together (one of the first things you should do upon arrival), go through the process of making them. Trust us, doing it earlier in the day will make you doubly happy to go to bed knowing that they are all ready for you.
Pajamas
These can be included with your change of clothes, or they can be included in your bundle of fresh sheets. As long as they're included! It may seem like a small thing, but having a clean pair of pajamas for every person to sleep in will make you feel even better.
6. For Your Kids
The only thing harder than moving? Moving with kids. It can be fun, but it can also be a little more challenging, as they won't be as excited to put together beds and unpack dishes as you. That's why we recommend packing a few things in your moving day survival kit just for them.
Snacks
This is probably the most important thing to have on hand, and not necessarily just for kids. Adults get snacky too! Keep some nonperishable snacks with you at all times, along with some bottled water, to curb any hunger-related outbursts.
Toys and Games
While most will be packed away in a designated box, it doesn't hurt to have a few favourite toys and games at the ready. Having their favourite toy with them will make them feel safer and more comfortable with the move, which is most likely exciting, but also a little scary for them.
Depending on the age of your children, board games are a great source of entertainment. They can play multiple games while you concentrate on starting the unpacking process.
Movies and Books
There's nothing like a movie to take up two hours of undivided attention, and watching a favourite film will bring your kids an extra level of comfort. You can get movies on your computer or tablet, or invest in a portable DVD player. Books are easy to include in your moving day survival kit, and can occupy hours of time. Include 2-3 favourite reads, or a new book they've been wanting.
7. For Your Pets
Moving with pets presents its own challenges. They don't see the world the same way we do, and moving can cause them to experience a lot of stress, especially if their schedule is thrown off.
The best way to help your pet adjust is to keep to their regular feeding schedule as much as possible, and make sure these essential things are in your moving day survival kit.
Food and Treats
It seems like a no brainer, but in the organized chaos of moving, your pet's food could be hard to get to come dinner time. We recommend packing a few meals worth of food in a separate container or bag that you can keep with you. A small bag of treats doesn't take up much room, and will make your pet feel extra good.
Clean Up Supplies
Depending on where you live, and what kind of pet you have, you may have to clean up after them. Keep bags, scoops, and litter boxes (with litter) in a place where you can access them.
Bedding and Toys
Just like you and your kids, your pets need their beds and their toys. If they sleep with you, you're already halfway there! Even if your pet doesn't play with toys regularly, don't forget to pack at least one toy that's probably missing a leg and both eyes, because it will bring them a sense of familiarity.
Another great way to survive moving day? Take a break! Play with your kids and your pets, and really enjoy the fact that you are in your new home. Remember, it doesn't all have to be unpacked right away.
8. Moving Supplies
These are the items that you should definitely have as they may be needed in any room, for any number of moving jobs, or simply for just in case scenarios.
Lightbulbs
Scissors
A multi-purpose knife
Pen and paper
Tape
A power strip
A flashlight
You may not need them, but you'll sure be glad to have them.
Your Ultimate Moving Day Survival Kit Will Be a Real Lifesaver
So it's not so much a survival kit as a survival carload. But it's a carload that you'll thank every five minutes when you need toilet paper or a snack break. It's one of the best resources for moving, no matter where you're going. If you have other things that are important to you, add them to the list so that your move to Myrtle Beach will be as smooth as possible.

Let Us Help You Make The Move
Now that you're prepared for the moving process, you can concentrate on being excited for making new memories in your new home! Still searching for your ideal home, lot or neighborhood? Whether you're just beginning to look or just found your dream home, our team of local real estate experts is here to make sure the home buying and selling process goes as smoothly as possible for you. Contact us with any questions you may have about buying, selling or building around Myrtle Beach.