A Guide To Understanding Coastal Flood Zones
Posted by CRG Homes on Monday, November 30, 2020 at 11:51 AM
By CRG Homes / November 30, 2020
Comment
Navigating The Waters Of Flood Zones
As a southern coastal community, Myrtle Beach enjoys year-round warm weather, long summers, and more than 200 days of sunshine each year. Our ideal temperatures and way of life attracts newcomers relocating to the area every year and we continue to see the Myrtle Beach area real estate market thrive. It's important for those relocating to the Grand Strand to ensure their home purchase is a wise investment, and that includes understanding flood zones and what that means for you.

As a buyer, understanding the possible costs and risks associated with coastal living is a necessity but don't let flood zones deter you from purchasing your dream home on the Myrtle Beach oceanfront! Whether you live right along the beaches or miles inland, flooding is a risk that you need to be aware of and educated on before purchasing or building your new home.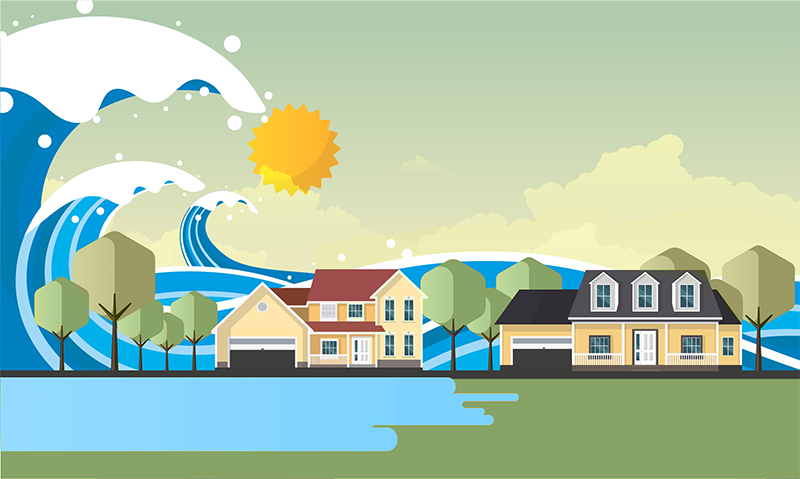 FEMA Zones & What The Risk Means To You
Federal Emergency Management Agency (FEMA) designs and updates maps to display the chances of flooding based on historical events and data. You can check your property's flood zone risk by checking the FEMA Flood Zones of Horry County map. These are the current and proposed flood zones and their predicted risk levels. Keep in mind these risk levels change over time and should be monitored on an annual basis.
Zone D: Risk is unknown as the land in this area has not yet been studied, but some amount of flooding is possible.
Zone X & C: Homes in these areas are at the lowest recorded risk. They are considered above or outside the 500-year flood level with a .2% chance of occurring in any year.
Zone B: Designation for moderate flood risk. These areas are considered to be between the 100-year (1% chance of occurring in any year) and 500-year flood levels. They include shallow flood areas that have an average of less than a foot of water.
Zone A, AE, A1-30, & AH: These areas have a 1% chance of flooding. AH alone also has average water depths of 1-3 feet.
Zone AO: These are areas at risk of flooding from a river or stream. They have a 26% chance of flooding over the course of a 30-year mortgage.
Zone V, VE & V1-V30: These are considered high risk zones and include the first row of beachfront property. Like the A zones, these areas have a 1% or greater chance of annual flooding and a 26% chance of flooding over the course of a 30-year mortgage, but with greater increased risk of flooding and additional hazard associated with storm waves.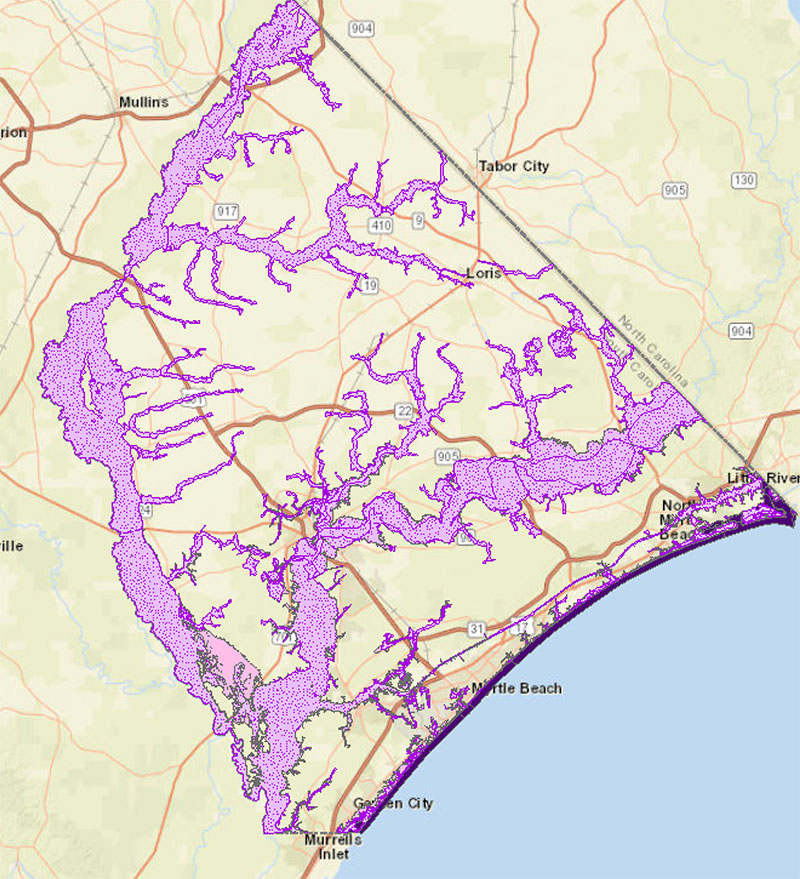 Insuring Your Investment
Insurance providers and lenders use the above zones to determine insurance requirements and coverage. Flood damage is not covered under basic homeowners insurance, however typically you can secure a policy from the same agency as your main home insurance. What you pay for flood insurance is directly related to how much flood risk is associated with your property.

For properties in high risk zones, it is required by federal law to have flood insurance and must be purchased through an insurance agent before closing. If the property you are considering is not in a high-risk flood zone, but it's either in a moderate to low-risk flood zone, you should still consider protecting your home. According to FEMA, more than 20% of flood claims come from properties outside of high-risk flood zones. Floods are the nation's most common and costly natural disaster and cause millions of dollars in damage every year.
Building In Flood Zones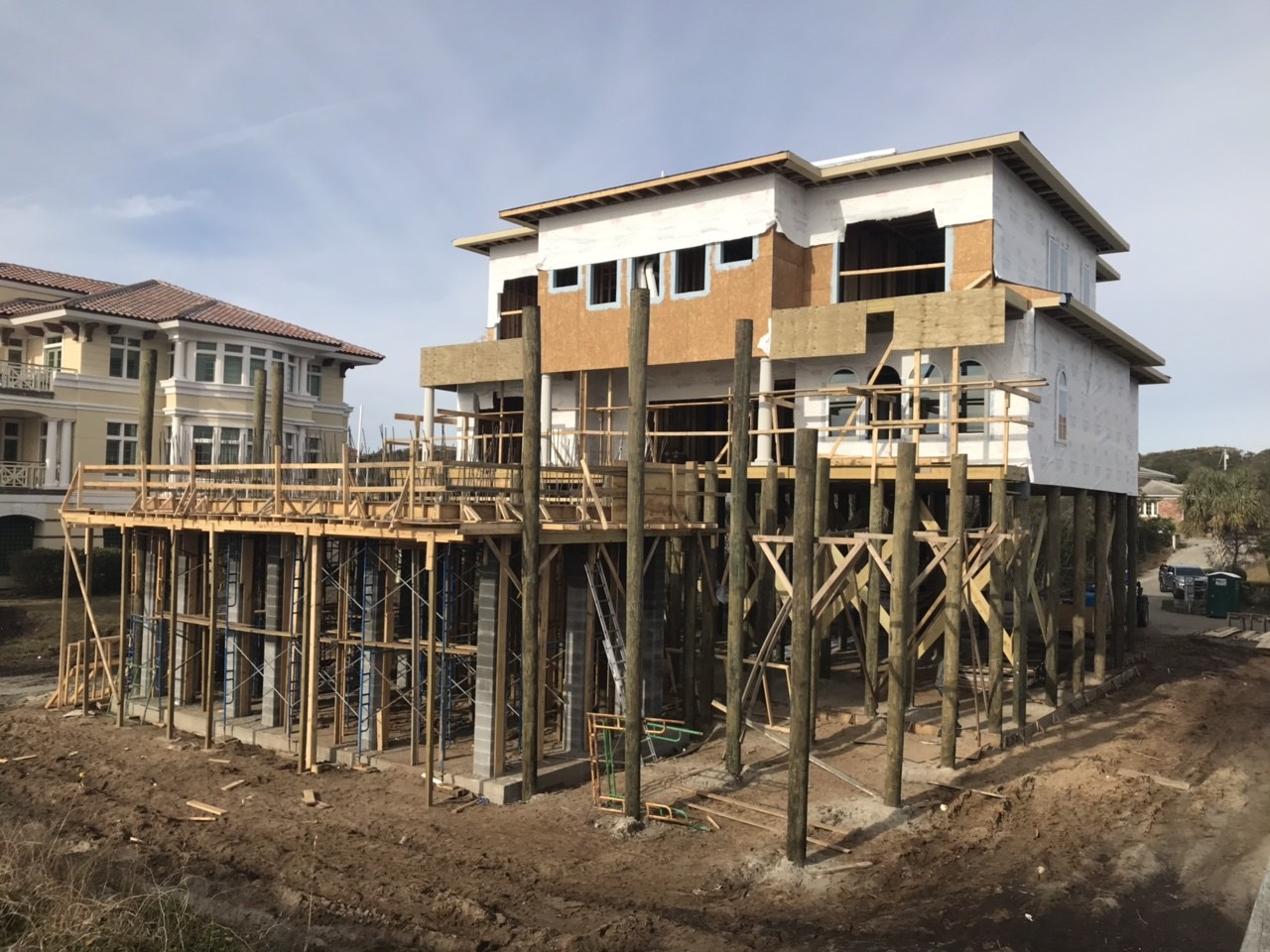 Construction Progress Photo of Custom CRG Oceanfront Home in Myrtle Beach
No property is immune to natural disasters. But fortunately for those who are moving to the Myrtle Beach area and are considering building their dream home, CRG Companies is experienced with building and designing homes that are storm resistant. Ensuring a home is properly elevated to a desired Flood Protection Elevation (FPE) or above Base Flood Elevation (BFE) is crucial. With over ten years of building custom homes on the coastline and along our waterways, the CRG team combines experience, building and design techniques, and impact-resistant materials to ensure your home is well prepared to withstand the elements.

Disclosing Flood Risks - Protect Yourself With Professional Advise
Several real estate listing sites refuse to disclose whether a home is within a flood zone to protect the sellers however Realtor.com recently published that they will be identifying the flood risk of a listing on a scale of one to ten along with FEMA maps. Even with this information flood zones and insurance requirements can be confusing and often overwhelming for those relocating from out of state. Working with a local Builder or Realtor can help you take the necessary steps to fully understand our areas flood zones, how they will affect your investment, and how you can make sure you're covered in worst-case scenarios.

Our team is here to help navigate the process of making an informed decision when securing your next home. Contact us today to learn more!