Explore The Oceanfront Homes Along Our Shoreline
Posted by Sarah George-Moniz on Tuesday, May 12, 2020 at 11:09 PM
By Sarah George-Moniz / May 12, 2020
1 Comment
A Tour of The Grand Strand's Best Oceanfront Living
Oceanfront homes line the beautiful sandy shores of the Grand Strand from North Myrtle Beach all the way down to Georgetown. Whether it be your dream home come true or a vacation home for investment purposes, the Myrtle Beach area offers oceanfront homes for all your needs. The Grand Strand has a diverse array of cities so we recommend working with an experienced real estate agent to determine which area best suits you. Let's get to know some of the areas of the Grand Strand that offer oceanfront living...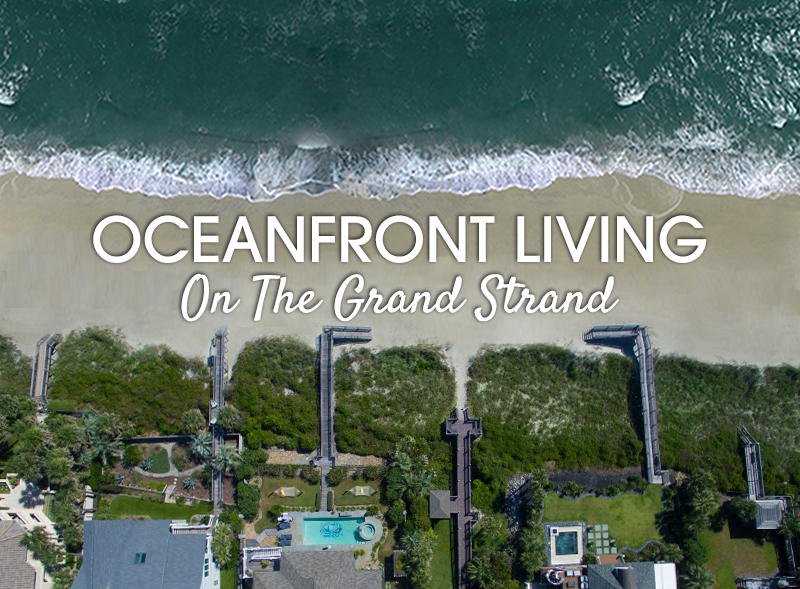 Myrtle Beach
Myrtle Beach is the most recognized city along the Grand Strand and offers oceanfront homes from $850,000-$5,000,000. The "Golden Mile" is an infamous and highly desirable section on the Myrtle Beach shoreline offering homes with spacious lots secluded from the high-rise hotels. This stretch of beach is off Ocean Boulevard's North Avenues home to only private beachfront residences. This section does NOT allow short-term vacation rentals. It's ideal for those looking to relocate permanently or own a luxury beach escape in one of the most desirable areas around. Check out these two custom CRG renovations located on the Golden Mile!
Oceanfront custom home designed and built by CRG Companies
"Green" custom home by CRG Companies features green construction and even a living roof
At the northern end of Myrtle Beach, the prestigious Dunes Club community offers some of the most beautiful and most expensive oceanfront homes found along the Grand Strand.
CRG custom oceanfront home in The Dunes Club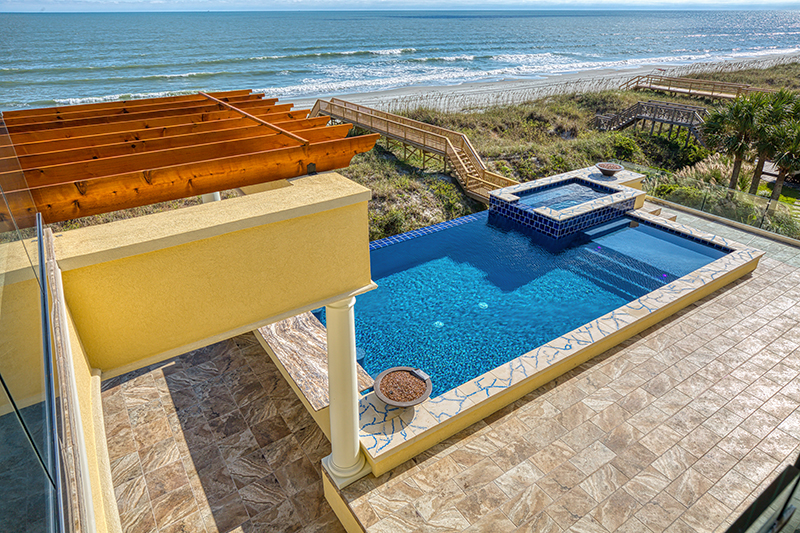 With over 50 oceanfront design/build homes in our construction porfolio, this CRG custom home marks our sixth oceanfront home in The Dunes Club.
Heading north from Myrtle Beach sits a small unincorporated town called Briarcliffe Acres. This unique community offers less than 15 oceanfront homes on larger lots. Oceanfront homes for sale here are on rare occasion but range from just under $2,000,000-$5,000,000. Briarcliffe Acres also prohibits weekly rentals. This is an established community providing a friendly yet private element.
North Myrtle Beach
North Myrtle Beach offers many opportunities to own an oceanfront home. Prices for an oceanfront home in this area range from $700,000-$3,000,000. This area is great for those interested in owning a vacation rental property as most oceanfront homes in North Myrtle Beach welcome frequent vacationers and has continuously ranked among favorites for families.
Three custom CRG oceanfront homes that are available to rent for your next vacation in North Myrtle Beach!
Custom home by CRG Companies in North Myrtle Beach
Surfside Beach
Speaking of families… head south from Myrtle Beach and you'll reach a community that is affectionately named the "family beach." Surfside Beach stretches two miles of pristine oceanfront boasting homes, condominiums, restaurants, shops and more. Many of the oceanfront homes are rented throughout the entire year with back-to-back bookings during the summer months. Surfside oceanfront homes for sale range from $750,000-$2,000,000.
Garden City
Continuing south, Garden City is another oceanfront area that proudly invites vacationers. Some oceanfront homes on the very south end of Garden City include deeded boat docks on the beautiful Murrells Inlet tidal creek. This area boasts a family-friendly vibe while offering a lively shopping, dining, and entertainment scene for seasonal visitors. At the very south end of Garden City is the gated, luxury community of Inlet Harbor. Garden City real estate offers oceanfront homes are currently $700,000-$2,500,000.
Oceanfront home in Garden City by CRG Companies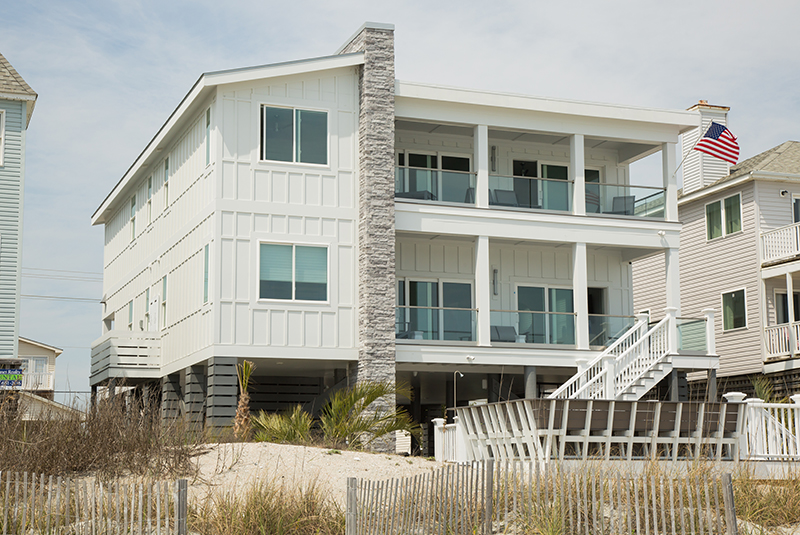 Modern custom vacation rental built by CRG Companies in Garden City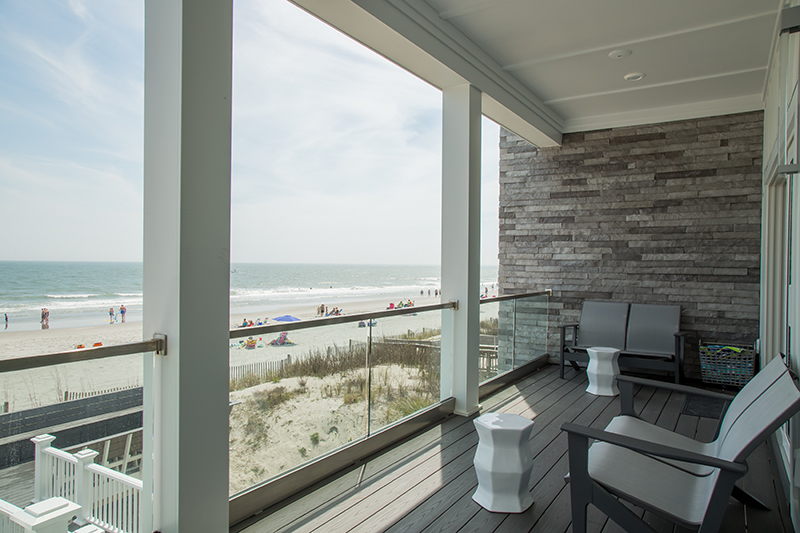 Oceanfront vacation rental designed to maximize the gorgeous water views
Murrells Inlet
Murrells Inlet is a sought after area on the Grand Strand though it doesn't offer any direct oceanfront homes as it's separated from the beaches by a tidal creek. For those interested in waterfront homes for sale, this is an incredibly beautiful area boasting breathtaking marshland views just moments from the beach. The Marshwalk in a popular visitor and local destination with some of the Strand's best seafood restaurants!
Custom home by CRG Companies in Murrells Inlet
Litchfield
Leaving Murrells Inlet heading south, there is a five-mile stretch before arriving in North Litchfield. Murrells Inlet and Litchfield Beach are separated by Huntington Beach State Park and Brookgreen Gardens. Huntington Beach sits on 2,500 acres of local wildlife, preserved beaches, marshes, woods, and trails. Brookgreen Gardens property includes 9,100 acres of themed sculpture gardens, a wildlife preserve, and trails through several ecosystems in nature reserves.
Litchfield Beach offers oceanfront homes in 3 different areas accessed off Hwy 17- North Litchfield, Charlestowne Grant Community, and South Litchfield Beach. These oceanfront areas offer some vacation rentals but many are secondary homes that homeowners use for their personal escapes. The Litchfield is much quieter than it's neighboring communities and many of the families that own property and vacation in North Litchfield have been coming to this area for generations.
Pawleys Island
The last piece of oceanfront land in Horry County resides Pawleys Island, and indeed, it is an island. This is known as the oldest resort area in the country and has been named "arrogantly shabby". The laid back, salt way of life is what so many families come back for year after year. Currently oceanfront homes range from $850,000-$4,000,000. Oceanfront homes in Pawleys Island are a mixture of second homes, primary residences, and vacation rentals.
Custom home by CRG Companies in Pawleys Island
Georgetown
In Georgetown County, The Grand Strand consists of two oceanfront gated communities tucked away that offer magnificent beach homes on spacious lots.
Debordieu Colony is a sophisticated golf community that has some of finest oceanfront properties. Prince George is a historically significant pristine tract of 1,900 acres located on the historic Waccamaw Neck. These two very exclusive communities are great for primary residences or luxury second homes. Neither community allows vacation rentals. Resort-style amenities can be enjoyed by the homeowners. If you are looking for a high-class, very private community to own an oceanfront home both Prince George and Debordieu Colony may offer what you have been searching for with homes for sale from $1,000,000-$6,000,000.
The Grand Strand has a diverse array of cities so we suggest working with an experienced, local real estate agent to truly determine which area best suits you.
The Current Myrtle Beach Real Estate Market
Oceanfront homes decorate our Atlantic coastline, and even some areas still offer buildable lots for sale. View our full portfolio of custom CRG oceanfront homes. Currently, the Grand Strand real estate market is experiencing low inventory. This simply put, there are a lack of overall homes listed for sale. Well-priced oceanfront properties are not staying on the market long as buyer demand is high. View all the available oceanfront homes for sale here. It's best to work with a Real Estate Professional if you're considering purchasing especially in such a competitive market. A seasoned, knowledgeable agent will maximize your search potential, while guiding you to make a smart decision based on industry trends and local analysis. Fortunately, our area's selling season is just heating up and we anticipate sellers to take advantage of the current demand.
NOW BUILDING IN COASTAL NC
CRG Companies has expanded to Coastal North Carolina! From finding the perfect lot and community all the way to designing and building your dream home, our team of professionals are available to assist you in the process. If you're looking to make a move to either North or South Carolina, whether it be buying or selling or building, contact us today!